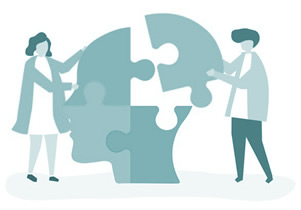 Dr. Jeanne Brown,

Ph.D., HSPP
Dr. Brown has over 20 years experience as a Clinical Psychologist in Northwest Indiana.
She enjoys helping individuals, families and couples of all ages with a variety of goals and problems. In her therapy, she integrates cognitive-behavioral, solution-focused and other approaches while remaining rooted in a family systems approach. This means that even when she meets with you individually, she will want to consider the people and groups you connect with; families, friends, organizations, culture, religion, and pets. She will work with you to choose your own goals and treatment approaches.
Dr. Brown is also a professor and a disaster mental health responder. She has been a counselor educator, support group leader and Sunday school teacher. She is a wife, mother and pet owner.
Life experiences include traveling and living internationally, fertility treatment, adoption, attachment parenting and helping family members go through cancer.
"Throughout my career, I have sought the best way to combine a solid education in psychology with my own personal Christianity…while being open to discussing a client's spirituality when that is appropriate or helpful to them."