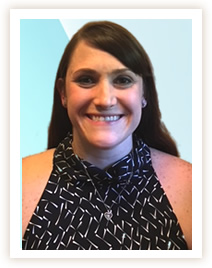 Elizabeth A. Boesel,

L.M.H.C.
Elizabeth Boesel received her Masters degree in Mental Health Counseling at Purdue University Calumet in 2012 and became a Licensed Mental Health Counselor in 2016.
She has provided home-based services including but not limited to individual, family, and couples therapy with court ordered clients. She has experience in group therapy, where she runs a mental health Intensive Outpatient Program (IOP).
Elizabeth specializes in treating children, adolescents and adults who are struggling with depression, anxiety, mood disorders, Bipolar Disorder, ADHD, grief and loss, as well as trauma and crisis. Elizabeth also has experience working with couples and families dealing with relationship issues and life changes.
Elizabeth's approach includes a blend of Existentialism, Choice Theory, Mindfulness techniques, Expressive Arts Therapy, and CBT (Cognitive Behavioral Therapy). She has provided therapy to all age groups. She provides support, feedback, encouragement, and works towards clients becoming aware of their true potential by working to gain fulfilment, control of their lives, meaning, purpose, and their true happiness.